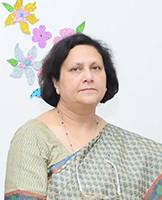 " When educating the minds of our youth, we must not forget to educate their heart "
Dalai Lama
We understand the importance of emotional stability for healthy growth of a child. So, we interact with each child individually, and encourage them to develop self confidence and out of the box thought process. We allow every student to thrive as they work towards achieving their best performance. Even though we set high expectations from our students. We work hard to safe guard the positive environment of St. Thomas School, Jagadhri
Educationist are constantly looking for ways to make the education system more dynamic. We have been constantly keeping pace with the need of the society and the innovations that are taking place.
We are confident that this school is the best place for your child. We welcome your active interest and environment in the progress and activities of your child. We look forward to your continuous support.
MRS. ANURADHA AMOS
SECRETARY AND TREASURER
ST. THOMAS SCHOOL
JAGADHRI