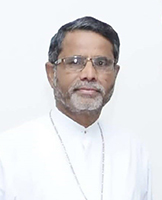 I am delighted that St. Thomas School Jagadhri has fine-tuned a learning and life skilling system that has been envied and bench marked across Haryana for many decades.
It is an institution with a mission to find and develop exceptional value driven individuals from all background. We also have the means to offer financial assistance in form of need based scholarship.
We are confident that this school is best place for your child.
May God bless our school to reach new heights and move from strength to strength.
RT. REV. WARRIS K. MASIH
Bishop of Diocese of Delhi
Church of North India
Chairperson
St. Thomas School
Jagadhri